The Plastic Park is an innovative concept for dealing with some of the 4.9 millions of tonnes of plastic waste that currently ends up in landfill, in our oceans or exported overseas. 
It will cluster together different technologies that will enable mixed recyclables and plastics to be recycled. Plastic that is unsuitable for recycling could be used to generate hydrogen at the Plastic to Hydrogen facility.
 


What is proposed?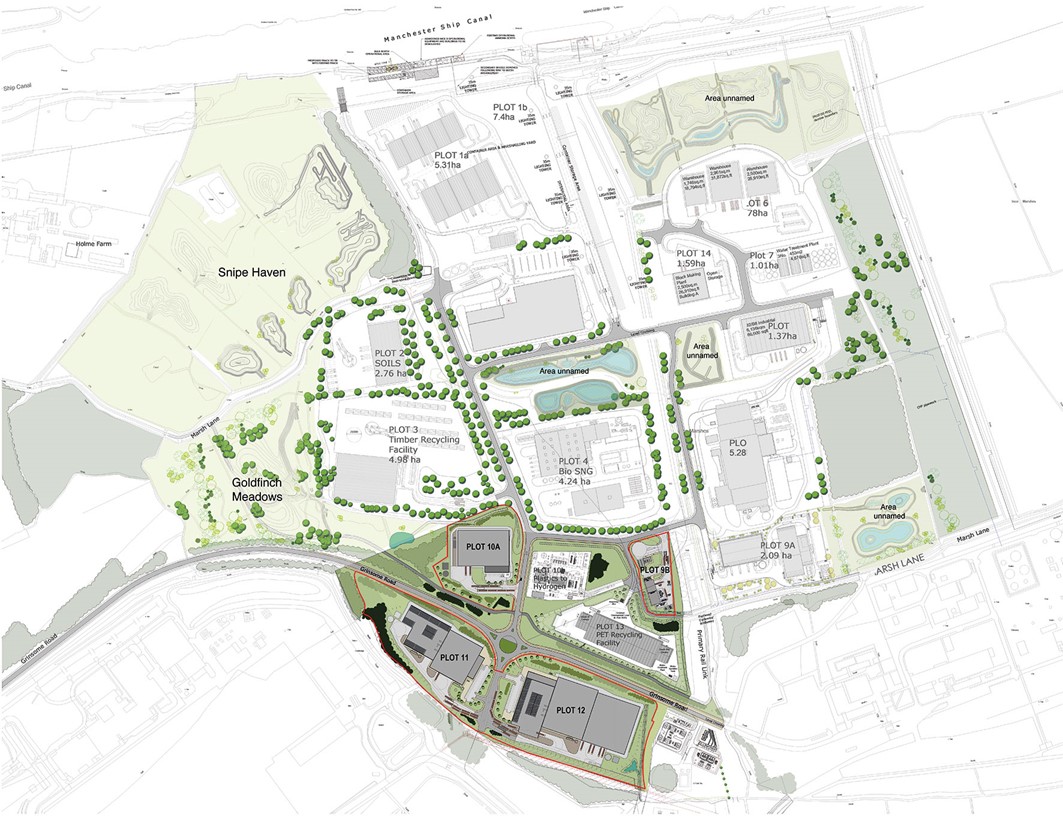 The Plastic Park is planned for land to the north and south of Grinsome Road with two facilities already having received planning consent.  
- A waste Plastic to Hydrogen facility which will take end of life plastic and use it to generate hydrogen for use as a clean fuel in cars, buses and HGVs, helping to improve local air quality. (Plot 10b) 
- A Polyethylene Terephthalate (PET) recycling facility which will take food and beverage packaging, such as plastic bottles, and recycle them for use in making new packaging products. (Plot 13)

In July 2022, a planning application for further facilities at the Plastic Park was approved by Cheshire West and Chester Council. Alongside the Plastic to Hydrogen facility and PET plastic recycling facility, which already have planning consent, we are proposing to develop:
- Materials Recycling Facility (MRF) – which will separate out up to 75,000 tonnes of dry mixed recyclable materials (such as glass, paper, cans and card) into different waste streams and sent for recycling.
- Plastics Recycling Facility One (PRF1) – plastic from the MRF and mixed plastics arriving pre-sorted to the site will be separated into different plastic types. The separated plastic will either go to PRF2 or the PET recycling plant. PRF1 will treat up to 200,000 tonnes of plastic.
- Plastics Recovery Facility Two (PRF2) – up to 90,000 tonnes of pre-sorted plastic from PRF1 which will be washed and processed into flaked plastic which can be used to make new plastic products, such as food packaging or drinks bottles.
- Polymer Laminate Recycling Facility – up to 2,500 tonnes of plastic aluminium laminates (like crisp packets and baby food pouches) will be heated, the plastic will break down into an oil for reuse in manufacturing of new products and the aluminium recovered.
- Hydrogen refuelling station – taking hydrogen from the consented plastic to hydrogen facility to supply up to 1000kg of hydrogen per day to vehicles, sufficient to fuel approximately 20 HGVs from outside Protos and a similar number of internal HGV movements that will be servicing operations within Protos.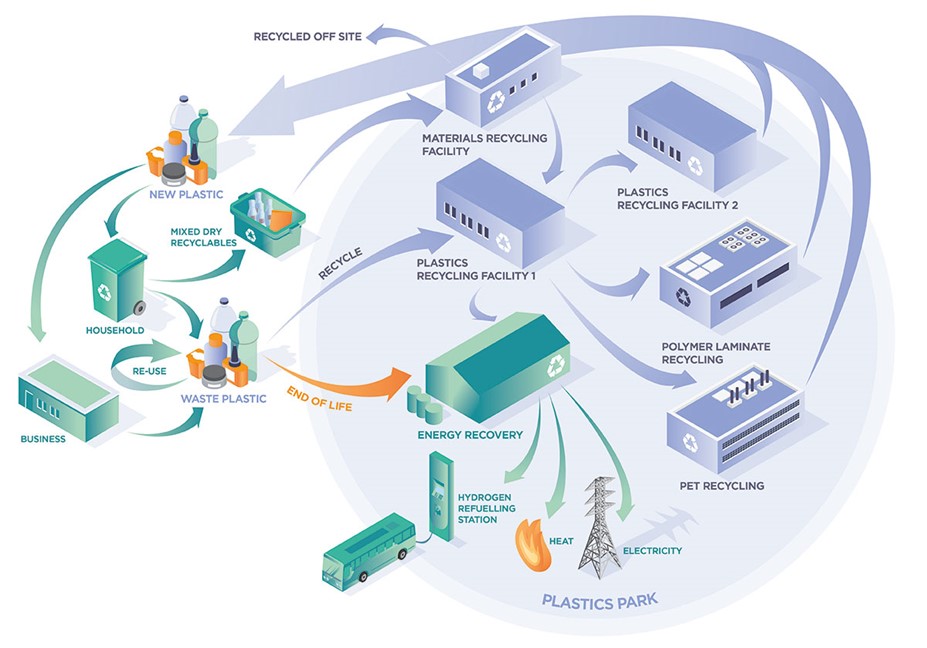 The Plastic Park will take approximately 2 years until complete.

To view some of the planning application documents please click on the below links
To view the application in full please click here.